Article
10 TIPS YOU SHOULD KNOW WHEN BUYING YOUR FIRST WELDER
Dec 07, 2022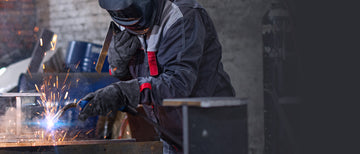 Welding is a process of joining two materials, mostly metals. It is essentially keeping the world around us together as we see it today. welding is fundamental process of most of the industries including automotive, ship building, aviation, construction and aero-space. welding is very challenging and demanding job, if you are one of those who are fascinated by the welding and are willing to buy yourself a welder your are at the right place, following are the top ten tips that you must consider while buying a welder
TYPE OF MATERIAL TO BE WELDED
First question that you should ask yourself, what am I going to weld as the choice of welder is primarily based on the type of material to be welded. Although there are welding processes that support welding of more than one metals, but the decision should be taken based on metal that is mostly needs to be welded. A table showing metals (commonly used) Vs welding process that it can weld it is given below
 

WELDING PROCESS

Metal

MIG

TIG

STICK

Steel

Yes

Yes

Yes

Stainless Steel

Yes

Yes

Yes

Cast Iron

-

-

Yes

Aluminum

-

Yes

-
SKILL LEVEL YOU HAVE
To produce good quality weld, choice of suitable welding process and requisite skill level both are equally important. As some welding processes require more time to master other are easy to learn. A table of skill level Vs Welding process is given below
 

WELDING PROCESS

Skill Level

MIG

TIG

STICK

Low

Yes

-

-

Moderate

-

-

Yes

High

-

Yes

-
QUALITY OF WELD REQUIRED
choice of welding process plays important role on the quality/ finish of the weld produced. Some processes offer good quality weld as compared to others. A table of welding quality Vs Welding process is given below
 

WELDING PROCESS

Weld Quality

MIG

TIG

STICK

Low

-

-

Yes

Moderate

Yes

-

-

High

-

Yes

-
ELECTRICITY/ POWER AVAILABILITY
Like any other machine welder are also required to be connected to the electricity/ power source. Depending upon the area/ region different electricity supply voltages/ frequencies are delivered to customer. One should be aware of what is available at the power outlet and the decision of the welder should be made accordingly. Following choices are available
| | | |
| --- | --- | --- |
| Power Available | Availability | Type/ Capacity of Welder |
| 110/120  V | Utility Customers in Europe | Entry level  welding machines |
| 220/240  V | Utility Customers in Asia | Up to 30A welding machines |
| 440 V/ Three Phase | Industrial Connection | Industrial applications |
WEIGHT OF THE MACHINE/ INDOOR / OUTDOOR APPLCIATION
Although weight of the machine does not have to do anything with the performance of the welder, but it becomes critically  important when application/ usage of the welder demands that machine to be moved around or it has to be carried from one place to another place. For the application where placing the welder is one time job and it is not required to shifted around, physical dimensions are of most importance  than the weight of the machine. so consider the machine weight and dimensions  before buying.
MACHINE PARAMETERS
Like any other machine, welding machine do have specifications, maximum and minimum range for certain parameters. A table of typical welding machine parameters is given  below for reference only, select the machine that best match your requirements
PARAMETER

DESCRIPTION

COMMENTS

Process

MIG (GMAW)

TIG (GTAW)

STICK (SMAW)

Which process suits you best or you need multiprocess machine

Weld Thickness

MIG (1/40 TO 3/8 INCH STEEL)

STICK (0.020 TO 3/16 INCH STEEL )

TIG (1/16 TO 3/8 INCH STEEL)

How thick sheets/material to be welded

Input Voltage

120 to 230 V, 50/60 Hz

What power is available at your wall outlet

Weight

30 lb

You want a light portable machine or weight is not an issue for you

Length of power cord

13 ft

Different power cord lengths are available, choose what is required

Length of welding torch cable

15 ft

Torch with different lengths are available choose what is required

Torch

MIG/ TIG

You have to by a different torch for each welding process, will you buy all?

Welding Ampere Range

30-200 A

Current rating defines how thin or thick metal a welder can weld, so choose carefully
FUTURE SCOPE OF WORK
 There are several different types of welding machines heaving single and multiple process capabilities. Single process machines provides better control over the welding process and less adjustments on the console. while purchasing single process welding machine you should be very sure that it will meet your requirements, else you have to invest on another machine. Once you are in the welding business your interest and skills are expected to be improved, thus heaving a welding machine with multiple process capabilities is a good idea. And the good thing is multi process machines are very common these days. These machines can switch between various welding processes via knob/ settings on the console.
COST OF ACCESSORIES/ CONSUMABLE  
Each welding process has associated list of accessories and consumables. some process require shielding gas, other require flux to protect weld from environmental process during the welding process. If you are welding using MIG, then you have to bear the cost of gas cylinder as an accessory other than gas. However, in case of stick welding cost of empty gas cylinder is not there. Carefully estimate the cost of accessories and consumable to  keep the welder running economically.
MAKE/ COUNTRY OF ORIGIN OF THE MACHINE
There are number of welder manufactures with very tough competition on the price and quality which makes it very difficult to choose from various brands. Famous brands  for quality and reliability are EASB, Lincoln and Miller are given as reference only. Your choice on selection of particular brand should be based on availability and cost of replacement/ spare parts in your local market.
WARRANTY
when buying a new product, everybody want to be sure that it will work for a reasonable period of time. Usually warranty is provided by the seller as repair/ replacement of the faulty product. Do study the warranty terms of the machine. generally one year warranty is provided with the welding machines which are usually not applicable to the damage due to electric shock or if a repair attempt is made by anyone other than authorized dealer/ distributor. Do consider the location of authorized dealer in case a warranty claim may arise.
We have described above the factors you need to consider when buying your first welder, and we will summarize the following:
Consider your welding needs: Before buying a welder, it's important to think about what type of welding projects you'll be doing and what materials you'll be working with. This will help you determine the type and size of welder you need.

Research different brands and models: There are many different brands and models of welders available, each with their own unique features and capabilities. Researching different options will help you find the best fit for your needs.

Consider your budget: Welders can range in price from a few hundred dollars to several thousand dollars, so it's important to have a budget in mind when shopping. Keep in mind that a more expensive welder may offer more features and higher quality, but it may not be necessary for your needs.

Look for a welder with good customer service and support: When buying a welder, it's important to find a brand that offers good customer service and support. This will ensure that you have someone to turn to if you have any questions or issues with your welder.

Read reviews and ask for recommendations: Before buying a welder, it's a good idea to read reviews and ask for recommendations from other welders. This will give you a better idea of the quality and performance of different welders.

Consider the size and weight of the welder: If you'll be moving your welder around or taking it with you on the go, it's important to consider the size and weight of the unit. A lighter and more compact welder may be easier to transport and use.

Look for a welder with adjustable settings: A welder with adjustable settings will give you more control over the welding process and allow you to adapt to different materials and thicknesses.

Consider the type of power source: Welders can be powered by electricity, gas or both. Consider the type of power source that will be most convenient and cost-effective for your needs.

Invest in safety gear: Welding can be a dangerous activity, so it's important to invest in safety gear like a welding helmet, gloves and protective clothing. This will help protect you from burns, sparks and other hazards.

Consider the warranty and return policy: Before buying a welder, make sure to read the warranty and return policy carefully. This will ensure that you're covered in case of any issues or defects with your welder.
1 comment