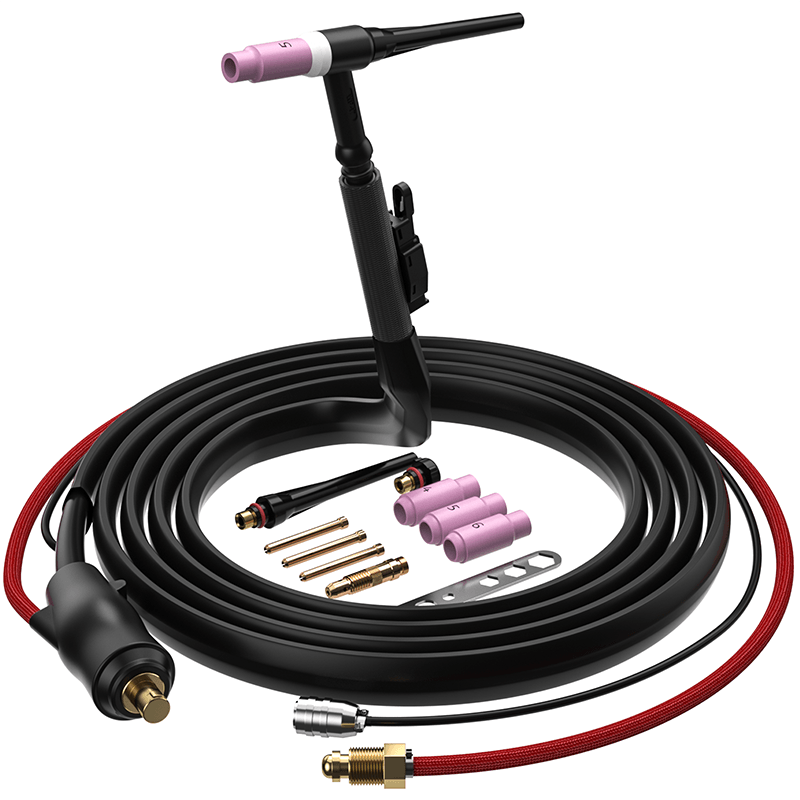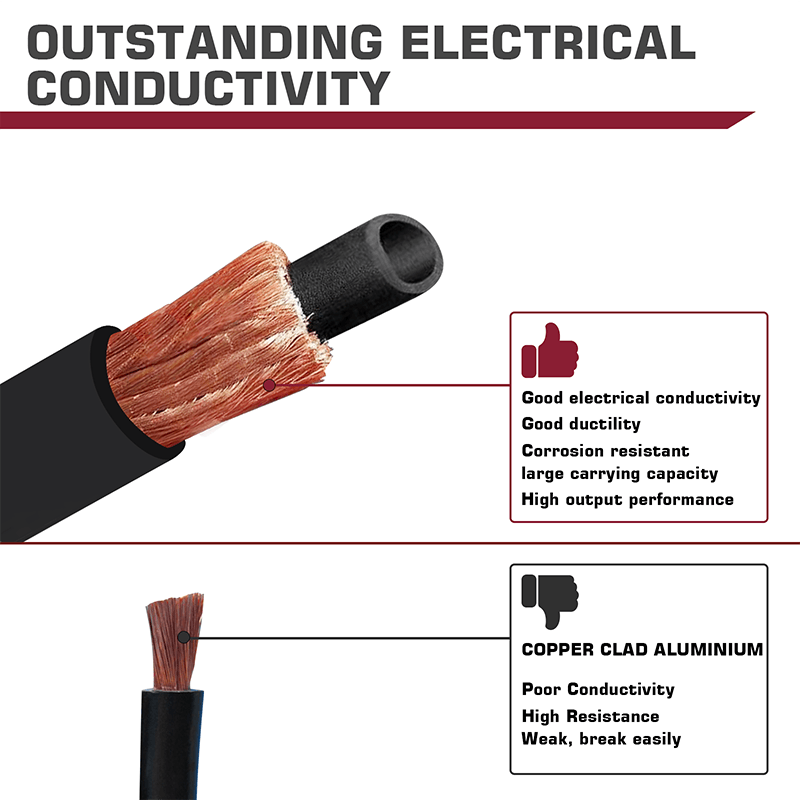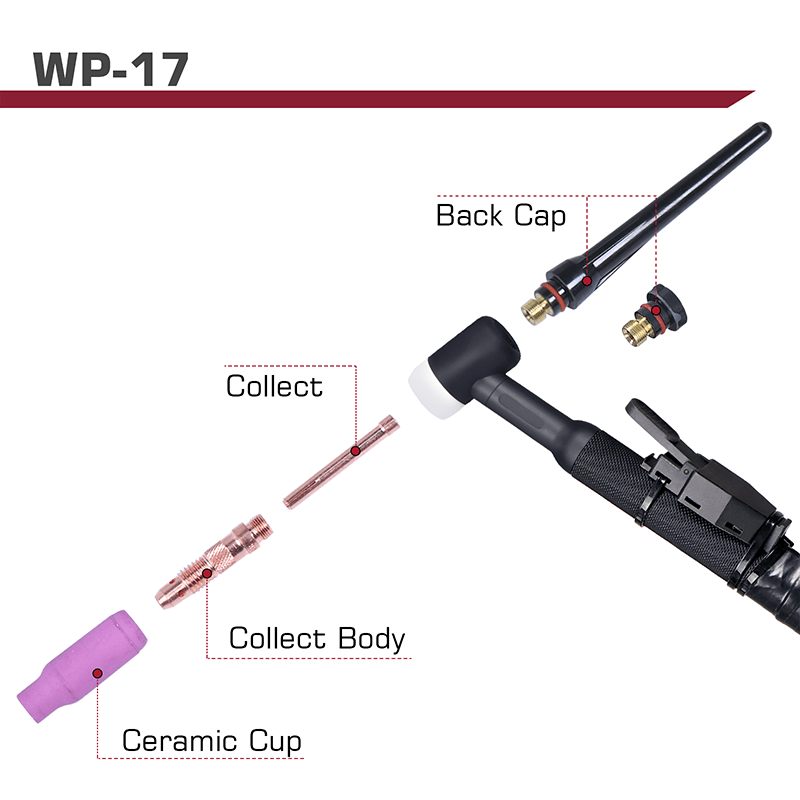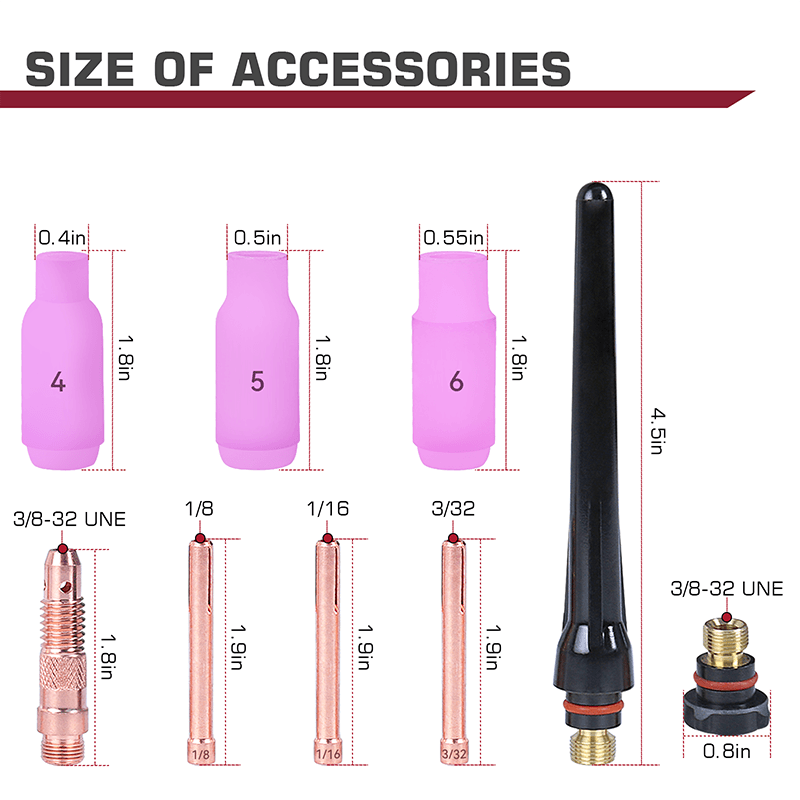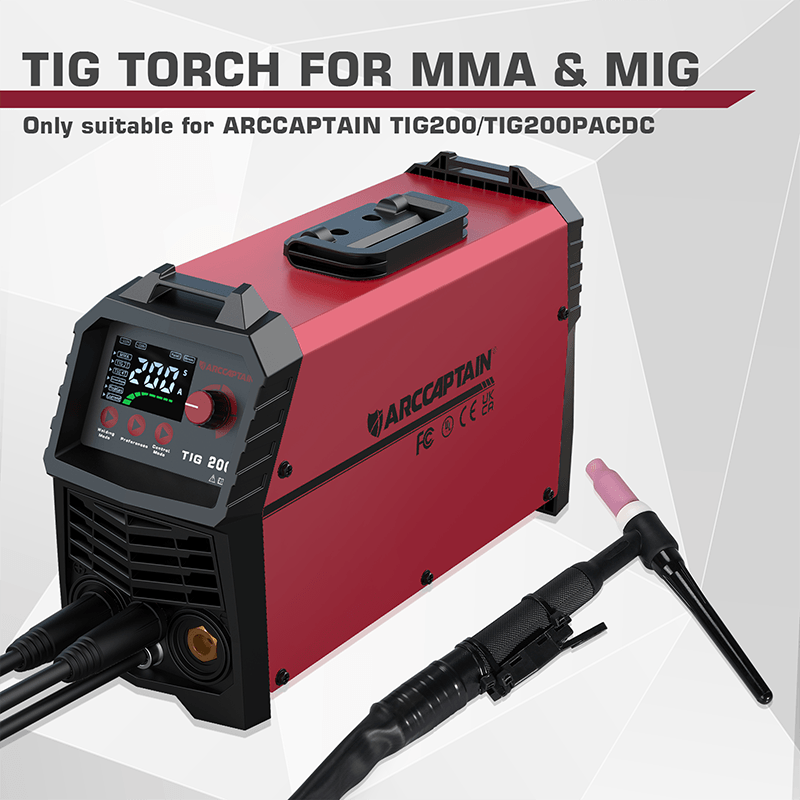 ARCCAPTAIN High Frequency Air Cooled TIG Torch 13-FT 150amp for TIG200/TIG200PACDC
Translation missing: en.products.product.price.regular_price
$57.99
Translation missing: en.products.product.price.sale_price
$57.99
Translation missing: en.products.product.price.regular_price
$67.99
Extra-Long 13-FT Air Hose

Long-Last & Durable:

Outstanding Performance:6mm² high purity copper wire, multi-strand interwoven into cables, low resistance conductors with large carrying capacity. Premium Nylon Material brings high heat dispersion performance, at long-term usage under high amperage.

Ingenious Design: Super-light high frequency TIG Torch with ribbed, ergonomic handle, offers high grip ability, optimum feel, and relieves operator's fatigue, making the welding work easier.

Compatibility: 150 Amps Argon AIR cooled TIG Torch only suitable for ARCCAPTAIN TIG200/ TIG200PACDC.

European Connector 35-50mm²

Gas Line (Red) Connection, 5/8"-18 RH.

XS12 5-Pin air socket.

Tungsten Electrode: 0.04"-1/8"
Estimated Delivery:Oct 02 - Oct 06

Free Fast Shipping : On orders over $100
30-Day Money-Back Guarantee

Hassle-Free Warranty

Lifetime Customer Support
ARCCAPTAIN High Frequency Air Cooled TIG Torch 13-FT 150amp for TIG200/TIG200PACDC
Translation missing: en.products.product.price.regular_price
$57.99
Translation missing: en.products.product.price.sale_price
$57.99
Translation missing: en.products.product.price.regular_price
$67.99
Description
About US
Shipping Policy
Warranty & Return
Features:
Extra-Long 13-Foot Air Hose: Instead of lugging the Argon welding cylinder tank all over the place, the ARCCAPTAIN TIG Torch comes with an extra-long 13-foot air hose and cables, providing tremendous convenience for distant welding tasks. Furthermore, these cables are constructed from robust rubber hose with nylon over-braid, making them super lightweight. This innovative design allows the TIG welding torch to remain flexible in any situation.
Durable and Built to Last: The HF TIG welding gun is crafted from a one-piece EPDM rubber power cable hose and a nylon cable cover, ensuring it's free from leaks, blockages, or cracks. The connections are sealed tightly, offering exceptional heat and abrasion resistance for an extended service life.
Exceptional Performance: Featuring 6mm² high-purity copper wires intricately woven into the cables, these low-resistance conductors have a substantial carrying capacity. The premium nylon material ensures excellent heat dispersion, even during prolonged usage with high amperage.
Smart and Ergonomic Design: The super-light high-frequency TIG Torch boasts a ribbed, ergonomic handle that provides a strong grip, comfortable handling, and relieves operator fatigue, simplifying welding tasks.
Compatibility: The WP-17 150-Amp Argon TIG Welding Torch is exclusively designed for use with ARCCAPTAIN TIG200 and TIG200PACDC welding machines. It features a European Connector for cables sized between 35-50mm², a red gas line connection with a 5/8"-18 RH thread, and an XS12 5-Pin air socket. It is suitable for tungsten electrodes ranging from 0.04" to 1/8".

What is the air cooled TIG torch
An air-cooled TIG torch is a type of welding torch used in Tungsten Inert Gas (TIG) welding that relies on ambient air for cooling, as opposed to water-cooled TIG torches that use liquid coolant for heat dissipation. Air-cooled TIG torches are more common and straightforward to use, but they are generally suitable for lower amperage applications due to their limited cooling capacity.
Key features and characteristics of air-cooled TIG torches include:
Cooling Method: These torches rely on the surrounding air to dissipate heat generated during welding. They typically have internal air channels and vents to facilitate cooling.

Simplicity: Air-cooled TIG torches are easier to set up and maintain compared to their water-cooled counterparts. There is no need for a separate coolant system, which simplifies the welding equipment.

Portability: Due to their simplicity, air-cooled TIG torches are more portable and lightweight. They are often preferred for field welding or when mobility is a consideration.

Amperage Rating: While suitable for many welding applications, air-cooled torches may have limitations when it comes to handling very high amperage levels. Water-cooled torches are typically chosen for heavy-duty, high-amperage welding tasks.

Duty Cycle: Air-cooled TIG torches have a duty cycle, which indicates the percentage of time they can operate continuously at a given amperage without overheating. The duty cycle may vary depending on the torch's design and quality.

Welding Applications: Air-cooled TIG torches are commonly used for welding thin to medium-thickness materials in applications such as automotive repair, sheet metal fabrication, and general welding tasks.

Consumables: These torches use various consumables like Tungsten electrodes, collets, and cups, which can be specific to the torch model and should be compatible.
When selecting a TIG torch for your welding needs, it's essential to consider the materials you'll be working with, the required amperage, and the duty cycle. Air-cooled TIG torches are suitable for many welding situations, but for high-amperage or continuous welding, a water-cooled TIG torch may be a better choice to ensure efficient heat dissipation and prevent overheating.
We are the experts in the field of digital welding and have rich experience in welding machine manufacturing.
The story of Arccaptain started in 2003, which is the leading digital welding machine manufacturer, aiming to provide high-quality welding solutions for distributors in the welding industry and customers who are passionate about DIY.
More than 300 dealers in over 100 different countries have found success selling our welding equipment over the past two decades.
At the same time, in order to ensure the quality of digital welding machines and popularize better welding technology, all our products have passed the test of TÜV&CSA witness laboratory, and we established a R&D center for welding machines.
Listening to customers' opinions and responding to their needs allowed us to accumulate a wealth of experience in the welding field. We have also invested considerable effort in learning about the wants and concerns of online shoppers.
Finally, we realized the importance of solving problems directly for consumers, so we created a DTC brand.
As a digital welding machine manufacturer, ARCCAPTAIN's mission is to let more people who love welding and have DIY welding needs use our machines and fall in love with our machines.
We have a clear understanding of our strengths and future objectives owing to our continuous efforts to improve the technology behind welding machine manufacturing and our extensive financial investments in the emerging field of digital welding machines.
Our Slogan
Digital Welding Expert, Know You More
We want to share our enthusiasm in the field of welding machines with more friends, and we also want to hear the voices of more people who love welding. We will usher in a new era in digital welding.
Why Choose Arccaptain
 We study the needs of more than 10,000+ end customers
We have twenty years of manufacturing experience
We have a huge R&D center for electric welding machines
Our machines are easier to operate and use, even for newbies
Why buy our machines with confidence
Our welding machine production process strictly abides by the specifications
We manufacture welding machines that have undergone various high-specification tests
We offer unlimited customer support
We provide perfect after-sales service
All machines have a two-year warranty
Lifetime Technical Support
 Our mission
We are committed to creating a welding machine brand that customers like and respect and becoming a leader in the field of digital welding machines
Our Goals
Our goal is to serve more than 300,00 users within the next five years, giving our clients a sense of value and satisfaction with our offerings.
We are here to break boundaries
We strive to help people weld at their best, regardless of their skill or profession and feel 100% confident in the machine's ability, precision and reliability.

Power & Performance
ARCCAPTAIN® digital inverter welders have been designed to get the maximum power output from a compact unit, helping you achieve the welds you've dreamed of. We relentlessly test every machine with best in the field welding experts to ensure your machine can sustain the heavy demands and needs of any welder.

Reliability
ARCCAPTAIN® equipment has been designed to withstand even the toughest of conditions from rough job sites to rural properties, we guarantee our products will last. We are so confident in our machines durability.

Innovation
We search globally for what's next in the industry ensuring that every product we create, has been built for a specific purpose through new technologies and superior engineering, meeting the needs you didn't know you had.

A Welder For Everyone
ARCCAPTAIN® welders are used all over USA and Europe, from small backyard projects to large infrastructure projects such as high-rises, coalmines and Navy warships. Our comprehensive range of machines and equipment cover every level of performance and budget.
Our Concept
Customer First -- We will always provide customer support, answer questions, and help customers find better solutions. ARCCAPTAIN knows that 100% customer satisfaction is our goal.
Integrity management -- We will always operate in good faith, face our problems objectively, and not make false propaganda.
Harmony and tolerance -- Harmony is our calm and orderly work, tolerance and understanding of interpersonal relationships, and establishing internal and external harmony, unity from top to bottom, and a good atmosphere in the company's social relations.
Quality first -- we will strictly abide by the principle of quality first, continuously improve manufacturing technology, and optimize product quality
Protect the environment -- As a company, we want to do our part to make the world a better place by protecting the environment while also making efficient use of the world's resources.
Usually most packages will arrive within 5-10 business days, unless the logistics company encounters special circumstances. We will process your order within 3 days after you place the order. If you have any questions, please contact us in time, our team is also on hand 7 days a week and can be reached at support@arccaptain.com
Shipping Time
All orders are shipped within 10 working days unless there is a fraudulent warning or shipping address error. We never ship during weekends or holidays. All shipments have real time tracking and verified tracking numbers so you can track your items 24/7 with delivery confirmation. Orders are shipped via UPS/USPS/Amazon Logistics. When shipped, orders will take 2-3 days to update tracking number. You will get a shipping confirmation once shipped.
We cannot be held accountable for the shipping carriers actions and cannot issue refunds for shipping charges for delayed packages.
If you have any questions or concerns about your order, please email us at support@arccaptain.com and our team will be happy to assist you, 7 days a week.

Please Note: We do not ship to Puerto Rico or Internationally. We do not ship to P.O. BOX addresses and/or APO or FPO addresses.
Shipping
At ARCCAPTAIN, it's our mission to provide quality welding equipment at genuinely affordable prices to welders everywhere. To do this, we work with manufacturers across the world and use a global distribution network to get you the goods for less.

Your equipment may be coming from the US, or Hong Kong, depending on the equipment purchased. Your specific delivery date will depend on the dispatch country and delivery address.
When will I receive my order?
Most items are usually shipped within 5-10 working days.
We do recommend allowing up to 3 weeks for your order in peak times, such as a special offer or promotion. Delivery times are beyond our control but rest assured that we only work with reliable welding manufacturers and suppliers to give you the best service.
How do I track my order?
Your delivery confirmation email will contain your tracking number and order details.
Taxes and other charges
Depending on the country of delivery, you may be required to pay extra tax or charges such as VAT and/or import duties.
Orders Delayed, Lost, Stolen Or Damaged 
ARCCAPTAIN is not responsible for late, lost, stolen, damaged packages. 
Any order shipped and shown delivered through the courier will be considered delivered and will not be refunded, re-shipped or replaced.
We will do everything we can to assist with the tracking of your order, however, here are the rules:
Any order shipped and shown delivered through the courier will be considered delivered and will not be refunded, re-shipped or replaced.
We cannot be held accountable for the shipping carriers actions and cannot issue refunds for shipping charges for delayed packages.
We cannot guarantee the performance of any carrier and cannot accept responsibility for any carriers delays, packages delivered to incorrect addresses, and/or lost, stolen or damaged packages or products.
If your package is delivered to an incorrect address, it is lost, stolen or damaged you need to file a claim direct with the courier. 
Shipping Terms and Conditions
All orders MUST be shipped to the delivery address on your order. We cannot change the shipping address in your transaction to any other address after purchase. It is your responsibility to make sure your information is accurate when placing an order. Any mailing address mistakes on your part are not the responsibility of At ARCCAPTAIN.
Any orders with fraud alerts will not be shipped until all details and information are verified. No exceptions. We have a fraud prevention system to protect every party.
Fraud Prevention
ARCCAPTAIN is Level 1 PCI DSS compliant and 100% safe and secure for online payment processing.  We work diligently to protect the safety and security of our customers and our assets.
All orders are at our discretion to be checked for fraudulent activity on varying levels of research. If we are unable to verify your payment through the information you have provided, we will communicate what is needed for us to move forward with the order process. Additional information, including but not limited to, a current photo ID, professional beauty license, passport or payment details may be requested
Statement of Limited Liability
ARCCAPTAIN Welder expressly warrants to all purchasers ("Buyer") of all new welding and cutting equipment, helmet, and replacement parts ("Goods") that Goods shall be free from manufacturing defects in materials and workmanship which are discovered within the warranty period, subject to the disclaimers and limitations of the Statement. This warranty is void if the equipment has been subjected to improper installation and testing, improper care, unauthorized repair and modification, or abnormal operations.
Warranty Period
We will assume both the parts replacement and repair expense of correcting defects during the warranty period. All warranty periods start from the date of delivery and are as follows:
Warranty Statement for Welder:
Seller will assume both the parts replacement and repair expense of correcting defects during the warranty period.  All warranty periods start from the date of delivery and are as follows:
If the items purchased within the scale above become defective due to faulty materials or workmanship within a period of  2 years from the date of purchase, we guarantee to do one of the following, though you may be required to pay shipping costs for the return of the product to us and shipment of the repaired/replaced product to you:
Replace or repair all defective parts,
Repair a defective unit
Replace the unit with a new or reconditioned unit.
Warranty for 

Weld Helmet

 
180 days standard warranty
Weld Helmet
Warranty Statement for 

Weld Parts
90 days standard warranty
Replacement Parts

Torch accessories/ consumables /Welding Gauges

 

Tungsten

 
Buyer must contact Seller requesting warranty coverage within thirty (30) days from the date the defect is made known to the Buyer at www.arccaptain.com.
This Limited Warranty is subject to the following conditions:
Require proof of purchase including order number and place of purchase.

The item has not been misused, abused, neglected, altered, modified, or repaired by anyone other than the ARCCAPTAIN's authorized service center.
Defect or damage to the item has not resulted from the use of accessories or parts that are inappropriate for normal operation of the tool, or that are not designed for use with the item.
The item has not been subjected to fair wear and tear.
The item has not been used for trade purposes.
The item has not been used for rental purposes.
The item has not sustained damage through foreign objects, substances, or accidents.
Limitation and Disclaimer
Goods are intended for commercial and industrial users who are trained and experienced in the use and maintenance of welding equipment.  Buyer's remedies shall be limited exclusively to those provided in this Statement.  There are no express warranties other than those contained herein. Seller does not warrant any portion of the Goods not manufactured by Seller or its associates (whether or not specified by Buyer), but Seller shall assign to Buyer upon request all assignable warranties on product of Seller's suppliers related to such Goods.  Seller does not warrant that it or the Goods are in compliance with any entity, organization or industry standards, guidelines, or procedures unless specifically contained in a writing signed by Seller.
Warranty Email:support@arccaptain.com
Freight Cost
Buyer is responsible for shipment to and from the Seller's warehouse, or a service facility authorized by Seller.  More detail about return policy.
REFUND POLICY
To be eligible for a return, your item must be in the same condition that you received it, unworn or unused, with tags, and in its original packaging. You'll also need the receipt or proof of purchase.
Please Read The Return Policy Here.
Once we have approved your return request, we will start the refund process.

If your return is accepted, we'll send you a return shipping label, as well as instructions on how and where to send your package. Items sent back to us without first requesting a return will not be accepted.You can always contact us for any return question at support@arccaptain.com.
Damages and issues
Please inspect your order upon reception and contact us immediately if the item is defective, damaged or if you receive the wrong item, so that we can evaluate the issue and make it right.
Exceptions / non-returnable items
Certain types of items cannot be returned, like perishable goods (such as food, flowers, or plants), custom products (such as special orders or personalized items), and personal care goods (such as beauty products). We also do not accept returns for hazardous materials, flammable liquids, or gases. Please get in touch if you have questions or concerns about your specific item.Unfortunately, we cannot accept returns on sale items or gift cards.
Exchanges
The fastest way to ensure you get what you want is to return the item you have, and once the return is accepted, make a separate purchase for the new item.
European Union 14 day cooling off period
Notwithstanding the above, if the merchandise is being shipped into the European Union, you have the right to cancel or return your order within 14 days, for any reason and without a justification. As above, your item must be in the same condition that you received it, unworn or unused, with tags, and in its original packaging. You'll also need the receipt or proof of purchase.
Refunds
We will notify you once we've received and inspected your return, and let you know if the refund was approved or not. If approved, you'll be automatically refunded on your original payment method within 10 business days. Please remember it can take some time for your bank or credit card company to process and post the refund too.
If more than 15 business days have passed since we've approved your return, please contact us at support@arccaptain.com.