Welder Deals End in
:
:
: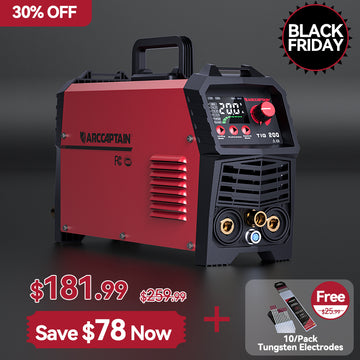 Black Friday DC TIG Welder Deals
Grab Your DC TIG200 Welder
The TIG200 TIG welder with IGBT inverter is compact and features dual voltage to switch from 110v to 220v.
Buy Now
The Best Black Friday Welder Deals 2023
Are you looking for the best Black Friday Welder Deals? Look no further! This Black Friday, take advantage of the most amazing deals on high-quality welders. Whether you're a professional welder or a DIY enthusiast, our Black Friday sale has something for everyone. From MIG welders to TIG welders, plasma cutters, and welding accessories, find exceptional discounts on top brands.
Don't miss out on the opportunity to upgrade your welding equipment with our unbeatable Black Friday offers. Stay tuned for exclusive deals, expert reviews, and tips to select the perfect welder for your needs, all under our Black Friday Welder Deals. Mark your calendars and get ready to shop the best welder discounts this Black Friday