‎E71T-GS Spool Gasless Carbon Steel Mig Flux Core Welding Wire
translation missing: en.products.product.price.regular_price
$17.00
translation missing: en.products.product.price.sale_price
$17.00
translation missing: en.products.product.price.regular_price
$19.90
The AWS E71T-GS 035 Flux Core welding wire is an ideal solution for those who want to achieve quick and easy welding. With different weight of 2lbs,4lbs, this welding wire is designed to be used without the need for shielding gas. This makes it an excellent choice for welding in all positions, whether single or multi pass. Whether you are a professional welder, metalworking hobbyist or DIY enthusiast, this welding wire is perfect for creating T-joints, butt welds, and lap welds. The smooth arc action and high feedability ensure that you will enjoy the process of welding.
SELF-SHIELDED
This Flux Core welding MIG wire is self-shielded, no shielding gas required, making it ideal for work on rusty, dirty and painted surfaces material.
LOW SPATTER
This welding wire produces stable arc action, low spatter, less welding smoke, excellent welding process properties, no hole seam.
RUNS HOTTER
E71T-GS wire runs hotter than solid wires which makes it best suited for single pass applications with high travel speed.
Product Description
FAQs
Shipping Info

You can expect high-quality welds when using ARCCAPTAIN flux core welding wire. It's a useful tool that will speed up the welding process and make it more convenient.
The Self-shielded gasless flux core mig welding wire works well on rusty, dirty, and painted material. It is also strongly resistant to base material oil pollution, making it ideal for use outdoors, at high altitudes, and in other challenging environments.
The flux core welding wire is perfect for a professional welder, metalworking hobbyist, or DIY welder. The ARCCAPTAIN flux core net weight is 2 LBS, and the Ddiameter is .030" (0.8mm)
The .030" 2 lbs welding wire can be used in most mig welding machines. No shielding gas is required, and the material is resistant to wind and porosity. It is ideal for outdoor repairing projects, high-altitude, and other different operating environments.
Specifications:
Standards: AWS E71T-GS

Type: Self-shield (Gasless)

Polarity: DCEN straight

Diameter: .030" (0.8mm)

Weight: 2 lbs. (1 kg)

Spool : D100

Material: Mild steel

Tensile strength: 80496 PSI

Yield strength: 63092 PSI

Welding positions: PA / PB / PC / PD / PE
Benefits
Welding Easy and Quick: When using AWS E71T-GS 030" Flux Core welding wire, shielding gas is not required. It will enable you to weld in any position, using either a single or several passes. Suitable for T-joints, butt welds, and lap welds.
Great Welding Performance: With smooth arc action and high feedability, your welding projects will produce less spatter. The flux filling acts as a shielding agent to create beautiful and clean welds. 
Professional Packing: Flux core welding wire is vacuum packed for waterproof, moistureproof, dustproof, then ensuring optimum welding performance and effect.
Trusted Quality: From a factory that has specialized in welding accessories for twenty years comes TÜV-tested flux core mig welder wire created from the highest-grade components and cutting-edge manufacturing techniques.
The ARCCAPTAIN Flux Core Welding Wire is vacuum packed, which ensures that it can be stored for a long time and has Waterproof, Moistureproof, Dustproof properties.

If you use the arccaptain flux core welding wire, you will get an excellent experience in the welding process including smooth and firm welds, stable arc action, high feedability, no hole seam, self-shielded etc.
Widely Applications
The Flux Core mig wire supports all-position angle welding in flat, overhead and fillet welds.
The Mig welding wire works well on various of range metal, like tanks, ornamental iron, farm implement repairs, automobile body repairs, boilers, construction work and also welding light-gauge plates as well as all different kinds of thin steel shapes.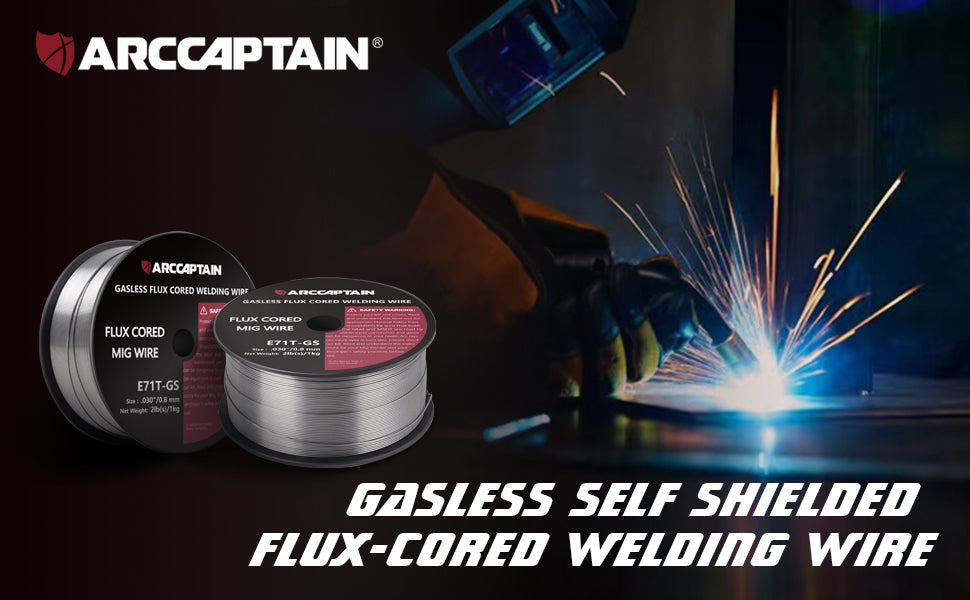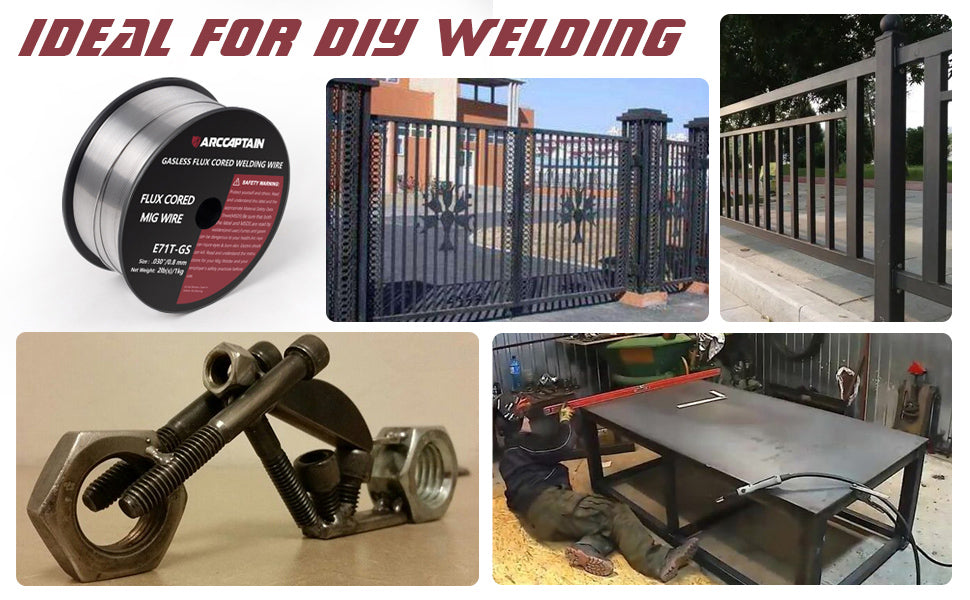 Can I weld Aluminum with the ARCCAPTAIN welding machine
We do not recommend that you use a ARC, MIG welding machine to weld aluminum, which will did not perform well.It's better to weld aluminum with the AC tig welder or pulse mig welder.Of course you can weld aluminum by the mig welder with spool gun.
Where can i download the user manual
You can download user manuals for all product models here.
What type of spool gun do i need for MIG200
1.Your spool gun will  need to be the Euro Connection to suit the MIG200.
2.Be sure your spool gun have the 4 pin aviation male plug.Otherwise, you need to buy the 4 pin plug yourself. Recommended 4 pin plug type: SP21 Series
EURO socket, 4 pin aviation male plug

Hole 1 connect to spool gun "+", hole 2 connect to spool gun "-".
PLUG NEED TO MATCH SOCKET. Need to change torch's plug to 4-pin.

Can you provide a graphite liner to weld aluminum instead of using separate spool gun?
Currently our mig200 mig welder does support the graphite liner.You need to find suitable size graphite and replace the drive roller.
You can also connect the spool gun to weld aluminium .But if you want get a better welding performance.It is better to use AC/DC tig machine to weld aluminium.
If I need the parts of products. Where I can find It? 
Arccaptain will sell most of the parts for our product, like tig torch, welding wire, welding backpack, etc., you can buy directly from the official website at an affordable price.
What type of tig torch suitable for Arccaptain machine
 Mig200 supports WP-17V 35-50 style tig torch.
MIG130 support WP-17V 10-25 style tig torch.
ARC200 support WP-17V 35-50 style tig torch.
ARC160 support WP-17V 10-25 style tig torch.
What is the recommended amperages for electrodes by type and diameter
You can read the guide chart here
What's the thinnest to thickest of steel and aluminium can the MIG200 do?
The MIG200 can weld 1mm-6mm steel.
The MIG200 can weld 1mm-5mm aluminium.
What Is The Standard MIG Contact Tip Sizing Chart
You can read the guide here.
Most items are usually shipped within 7-10 working days. Your delivery confirmation email will contain your tracking number and order details. If you have any questions, our team is also on hand 7 days a week and can be reached at support@arccaptain.com