Article
How to Match Your Aluminum Spool Gun to ARCCAPTAIN MIG200
Feb 02, 2023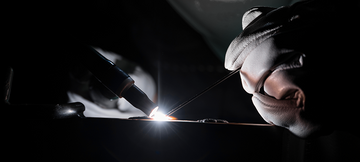 Currently it is very difficult for you to buy a 100% matching spool gun to connect mig 200 machine in the market. You need to make customized change for the spool gun aviation plug.We will be launching Arccaptain spool gun soon, then you will dont need to change anything.
This article is a simple guide to help you connect the spool gun you bought with MIG 200 machine.
If you buy a spool gun from other supplier, the guide will work for you.
The spool guns you buy from other supplier need to meet two conditions when matching mig200 machines.
1.The spool gun must be Euro plug
2.The aviation plug of spool gun must be 4 pin 
How to match your spool gun to MIG200 machine
You only need to change the aviation plug of the spool gun, make sure the plug of the spool gun is a 4 pin aviation plug, so that the plug can match the socket on the machine.
Step to step  to modified aviation plug
Cut off the aviation plug that comes with the spool gun, and replace it with an new 4 pin aviation plug that matches the host (as shown in image).You need to buy a 4 pin aviation male plug.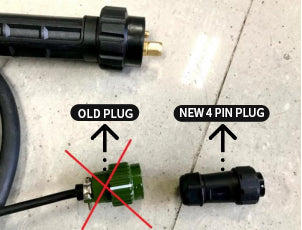 Cut off the original plug of the spool gun, and then strip the wires to expose the power cord of the spool gun. Only the red wire ( spool gun power supply positive "+") and the blue wire (the negative "-" of the spool gun) are kept, the remaining black and white lines do not need any processing. (as picture 2)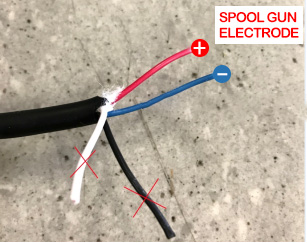 Connect the red wire( spool gun power supply positive "+") to the aviation plug pin1, connect the blue wire(the negative "-" of the spool gun) to the aviation plug pin2 , pin3 and pin4 are useless(As shown below)