Article
The Best MIG Welder Under $1000 for Small Projects 2023 (Buyers Guide)
Nov 11, 2022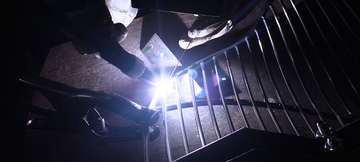 For the sake of affordability, all of the systems covered in this article are available for less than one-thousand dollars. Even with this budgetary limit in place, premium features are a must so that all types of hobbyist and commercial workshop assignment won't be an issue. With that said, with a budget of $1000 to play with, some top performing equipment choices are certainly within range.
Singling Out Valuable MIG Welding Features
What alloys and grades of metals are supported by the equipment? Let's make a quick list of the metals buyers will want to weld.
 Mild steel
Stainless steel
Aluminum
Nickel
Copper
Magnesium alloys
Next, the type/ratio of inert shielding gas provided needs to be considered. Argon and carbon dioxide gas blends are commonly applied, but the types and ratios of the gasses will vary. It's important to get this feature right, for the shield gas is designed to prevent weld pool exposure. If the pool is exposed to the air, oxidization issues will likely cause an adverse reaction to the quality of the weld.
Just as important as the shield gas, energy output must be assessed. Higher amperage settings equal a faster travel speed and deeper weld penetration. Similarly, multiple voltage settings furnish more versatile performance and a variable arc length. Really,with these and more gear attributes in mind, MIG welders typically look for a performance sweet spot. Alloy thickness is going to impact that sweet spot, as is the job type.
Is this important investment going to be used for hobbyist projects or for commercial work? Keep such thoughts in mind now as we look at the best MIG welding equipment for less than $1000.
Weldpro 200-Amp Multi Process ($815)
A 200-Amp powerhouse, the Weldpro is a truly versatile machine. Its high current electrode output makes short work of sheet metal projects. Stainless steel and aluminum welding is also part of the equipment's premium feature list. Additionally, the "multi process" label is earned by adding numerous adjustable settings to the gear. There's an inverter, a dual-voltage control, and adjustable inductance settings. By using these controls, the Weldpro 200 MIG welder can work with aluminum, and it can also operate as a TIG welder. That's a lot of versatility, which makes this unit fit for the most challenging workshop projects.The price is  $815.00.
Lincoln Electric Pro-MIG 180 ($899)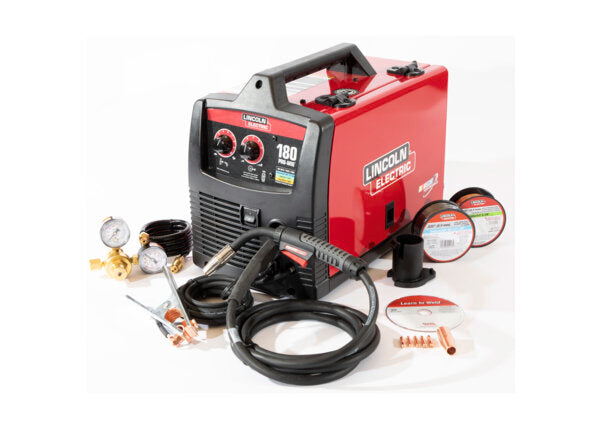 (image source:lincoln electric)
This is another dual-voltage candidate for best small project MIG welder for under $1000. The Pro MIG 180 would fit perfectly in a small auto repair shop or a light metal fabrication workshop. The control panel layout, with its simple two chunky knobs, adjusts smoothly to quickly generate a strong arc. It's this electrode induced heat that breezes through thin plate steel welding jobs with little effort. Better yet, with flux-core wire added, the Lincoln turns into a welding beast that can work on ½" steel. Other advantages of this high-performing MIG welder include a spatter-free workflow and a lightweight chassis. This machine is sold for no more than $1000.
ARCCAPTAIN MIG200 Multi Process Synergic MIG Welder ($479)
A highly affordable 6-in-1 machine with 200-Amps of welding output. The ArcCaptain MIG200 is an all-purpose workshop warrior with attitude. Gasless flux core work, gas shielded MIG welding, spool gun assignments, spot welding and more, the machine's multi-purpose features are ingrained in its compact, steel/aluminum unit's body. Focusing in on the aesthetically configured control panel, a large LCD panel lists current settings. On that panel, there's the Synergic mode to match output arc with wire diameter. Presets automatically adjust weld settings, making the machine the perfect set-it-and-forget-it investment for beginner welders. Alternatively, a manual mode brings fine-tuned control.Professional welders can use that level of control to apply the most finely applied welds.
LOTOS MIG175
Dropping down closer to the five-hundred-dollar mark,another fine entry in our list makes itself known. This time around, 175-Amps of welding power is available. Asides from pure welding power, though, there's a lot of versatility injected into the mix. For one thing, with the wire-spool gun attached, the LOTOS unit is perfect for aluminum welding. As we all know, this metal doesn't weld easily. The work requires an effective inert gas shielding system, as the alloy oxidizes readily when exposed to the atmosphere. Not that this is the sole reason to purchase this equipment. With that 176-Amp rating, the LOTOS is also entirely capable of working with stainless steel and other metals.
Eastwood 180 Amp MIG Welder ($549.99)
Operates again as a dual-voltage welding workhorse, which is likely thanks to the well-established manufacturer name. Eastwood has focused on all-around performance here, so this machine is clearly designed to function as an all-in-one workshop hero. If ¼" thick aluminum sheeting is to be welded, add the optional spool gun to the kit. If, on the other hand, mild or stainless steel work is the order of the day, the 240V input and 180-Amp electrode output will ensure the generation of a powerful arc, one that's capable of optimal weld travel speed. This is versatile welding on a budget, with all of the latest technological features integrated and ready to get to work. 
Hobart Handler 210mvp ($950.00)
Finally, scraping through to the top of our budgetary limit, this welding rig is priced at just over $1000 on Amazon, but it can be found for less than that on severable reputable welding equipment supply websites, especially if there's a sale going on. Equipped with 210-Amps of arc induction capability, the dual voltage machinery is designed to function primarily as a wire-feed MIG welder. For smaller workshops, a 115V power supply will satisfy its needs, but a user can switch over to a 240V supply if some heavy-duty steelwork is in the cards.
The highly rated Hobart will also weld aluminum, an alloy that typically requires higher melt temperatures. It can be found at several vendors for closer to.
All of these welding rigs function well as multi-purpose devices. They weld different metals, including aluminum. Do remember to check the supplied accessories for spool guns if this is a primary feature, however, as these parts are sometimes sold as optional extras, not as included kit parts. Also, if one of the factors involved in the buying process is portability, look at the equipment's dimensions.
All of these rigs are relatively portable, so they'll be as at home on a worksite as they are in an auto repair shop or a metal fabrication facility. One last thing, modern technology is integrated into all modern MIG equipment, so there's a good deal of solid state electronics inside them.
Even so,it's worth looking for a machine that has a rugged casing. That's, yet again, a good attribute to have in a portable machine, one that'll receive more than its fair share of knocks on a worksite, perhaps.
Factors To Consider When Buying A MIG Welder For Under $1000
There's a number of things to consider before you put down such a large investment. After all, that's no small sum of cash. You'll want to spend it wisely and really get a decent return on the payment. Fortunately, MIG welders don't come with a steep learning curve, so your budget won't buy you something that's impossibly difficult to operate. Still, there's those tiresome questions to solve. Starting with the power requirements, we'll do our very best to resolve those issues right here and right now.
Account for Power Input/Output Concerns 
There's no point purchasing a machine with a 220-Volt input if the sockets in your workshop only operate at 110-Volts. Make sure the $1000 MIG welding machine you buy is a match for your shop outlets. One option here is to buy a dual-voltage machine. Simply put, if you end up with a 220-Volt MIG welder, it won't work in your house or small garage. As for your output current requirements, you'll need gear with a higher amperage if you're going to work on thicker metal parts. Remember, more powerful arcs are generated by higher power ratings, and those ratings aren't possible without a correspondingly high voltage and amperage.
Getting The Most Out of Your Purchase
Does the package include all the accessories you'll need for your job? Both now and in the future, the work you'll accommodate may change, so think ahead. The following accessories should come inside the package as standard kit. They include the welding gun, the hoses, and the ground clamp. Shielding gas accessories will likely include a gas regulator, too. Don't forget a warranty. At the very least, you'll want parts and labor taken care of if the equipment starts acting up. Preferably, a no-out-of-pocket warranty that lasts for 5-years is the better option. Either way, the seller you're working with should offer decent technical support. Register your product, check the manual to see if its specs satisfy your needs, especially its output, and finalize your purchase.
Does Your New MIG Welding Investment Earn Its Premium Label?
So far, all of the features and attributes covered could pretty much apply to any hobbyist machine. To make that final push into premium grade equipment level, your MIG welder should have more to offer. For instance, ARCCAPTAIN products are exhaustively tested to meet strictly enforced quality assurance standards. They're systematically analyzed and monitored by Rheinland Labs for many hours to ensure a quality product ends up in your hands. Guaranteed. Next, premium rigs add premium parts, so you should see that promise reflected in your accessories package. A good indication of this is the inclusion of a high-quality spool gun, a component that's designed to simplify difficult jobs, especially those that target aluminum workpieces.  
So there you have it, your MIG welder for under $1000 really should have a lot to offer. Along with all the accessories and power input/output specs, you'll receive another special ingredient. It's been mentioned already. We're referring, of course to a reliable and authoritatively run quality assurance program. We use Rheinland Labs, one of the best testing authorities out there, to comprehensively assure the highest possible quality standards. Above and beyond that, ease of use is important. To facilitate this, try opting for a multi-voltage, multi-process machine, one that offers plenty of fine-tuned controls, plus an easy to read LCD panel. And don't forget that warranty!
Let me summarize the factors you should consider when buy the mig machine
1. Does the machine voltage support the local standard voltage?
2. Whether it is equipped with complete quality accessories
3. Whether the maximum output current of the machine matches the manual of the machine
4. Whether the machine has passed strict quality test
Please mention that arccaptain's machines are quality tested by Rheinland labs
5. Does the seller have sufficient technical support?
6. Machine warranty
7. Is the operation simple enough?
Because machines under $1000 are suitable for small projects, which means that people who use machines in this price range are beginners in welding, and DIY enthusiasts. The convenience of operation is also a factor that needs to be considered.
About the author
David Gardner
As a hobbyist welder, I haven't had access to a decent workshop for over 5-years now. In place of a hands-on approach, I've switched instead to engineering writing, with welding articles having become my primary focus. At heart, I still have a passion for welding, but now I want to help beginners and keen enthusiasts learn all there is to know about our field. I want to write content that informs aspiring workshop owners, too. It doesn't matter if you're an auto shop welder or a keen DIYer, as long as you've got an open mind and want to pick up a few welding tips or read a review about a new MIG machine, then I'm here to help.David is also a student of electrical engineering and a content writer with over 10-years of industry experience. He has a passion for vintage machines and is a small business owner.