Article
Buyers Guide To Welding Machine Under $500
Nov 07, 2022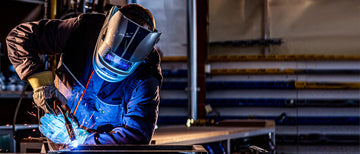 Cheap welding machine doesn't always mean poor quality. You can also get really high quality machines at an affordable price.

Welding machines under $500 are always suitable for home families, DIY enthusiasts, and small welding repair workers in the outdoors.

If you can get the right machine, which will help you a lot. Usually it will also last up to three years, which will also help you save a lot.
The article will be a guide as your reference when you consider buying the welding machine under $500, you still need to follow some principles and tips.
A welder or welding machine is the welding tool responsible for transferring current and voltage to the range suitable for welding and to control these values based on the used filler wire diameter, shielding gas if there and base metal to be welded.
There are some factors to judge if this welding machine is worth to buy or not. Here in this post, we will mention the important characteristics to be taken into consideration when you are comparing many welders then we will dive to the best choices of welding machines under $500 budget,which is a easy buyers' guide to help you choose the welding machine well.
Confirm The Welding Type You Want
When purchasing a welding machine, welding type are the primary consideration options,which determine whether you will complete your welding work well. Different welding type have different operating methods.
There are a variety of welding type which include:
DC stick welding of shielded metal arc welding SMAW in which flux covered electrodes are used in welding. This mode is the most popular one in welding which is used indoor welding in workshops and factories and also in outdoor welding in construction sites.

Flux cored arc welding( FCAW) or also called MIG flux cored in which a flux cored wire is used in welding which may or may not with using a shielding gas. This mode of work is popular for indoor welding in steel structure factories and automotive factories.

Gas metal ARC welding (GMAW) in which a solid wire is used with using shielding gases which may be inert or active depending on the base metal to be welded. This mode of work is very popular for indoor welding in workshops and factories.

Tungsten inert gas welding (TIG) in which a non-consumable electrode usually from tungsten is used to construct the arc and the filler wire is supplied by hand during welding. This mode is very popular in outdoor welding in construction sites, especially in welding small pore pipes and the root pass of large poor pipes which are popular in petrochemical industries and refinery industries.
So, in selecting your welder, you have to think about the required operating modes in your project and look for the welder which contains many of such required welding type.
Welding Variables Control
Welding machines under $500 are usually more suitable for outdoor welding maintenance personnel and welding beginners. When choosing a welding machine, whether the Welding variables control function is complete is also one of the factors to consider.
Adjusting your welder on the right welding variables is a very important step before starting welding. Here below are some of the welding variables and adjustments that are recommended in any welder:
Welding parameters control: these include welding current, welding voltage, wire travel speed in case of GMAW and FCAW.

Welding mode option: This option enables the user to select the intended mode of use whether TIG, SMAW, FCAW or GMAW.

Inductance option: This option is used to adjust soft or hard arc characteristics in MIG mode welding.

Wire size selection: This option enables the user to select the wire size to get automatic adjustments of welding current and welding voltage.

Adaptive crater, burn-back adjustment, pre-flow/post flow adjustments: These options control the performance of welding of controlling crater not to get crater cracks, controlling the burn-back which is a common occurrence in MIG welding that may happen when the generated arc climb up and fuse the wire with the welding tip, controlling the pre-flow/post flow of shielding gases before and after welding simultaneously.
A good welder is one which has all the required controls which can be used easily without causing a headache to the user.
Notice The duty cycle and efficiency
Duty cycle: It is the percentage of a certain time that the machine can operate properly and this time is usually 10 minutes, so for example if the duty cycle of machine is 60%, this means that this machine can work continuously 6 minutes in a safe way.
Arc efficiency: it represents the proportion of arc energy that is transferred to the workpiece as part of the arc energy is dissipated by conduction, convection and radiation.
The good welding machine is the one with higher values of duty cycle and arc efficiency.
Consider The Safety and reliability
To ensure the safe and consistent operation of the welding machine, there are some recommended safety options that should be included in the welding machines and should be checked before selecting your welder:
VRD: It refers to the voltage reduction device and its function is reducing the voltage and consequently the harm which may result to a person from contact with the electrode during non-welding pauses.

Over voltage protection

Over current protection

Overload protection

Overheating protection
So, you have to keep in mind all these safety options during selecting your welder and going forward to buy it.Please note that the machine with more functions is not better, if the machine has too many functions, the price will be more expensive. But if the machine is cheaper, you have to be careful.
The Quality and Durability Is Core Factors
To judge whether the quality of the welding machine is good enough, the important point is that you need to ask the customer service staff whether the machine has passed the strict quality test. The internal structure of the electric welding machine is very complex, and strict quality testing standards will greatly improve the stability of the electric welding machine operation.
Quality and durability of welding machines is a very important point in the selection process which can be measured by getting the welding machine that passed the below tests:
Drop test: to check the durability of machine body which is done by dropping weight on machine body.

Vibration test

Waterproof test

Metal dust test
So, keep in mind all of the above factors before selecting your welder.
The warranty of welding machine
A warranty is a certificate of guarantee issued by the manufacturer to promise repairing or replacing the machine within a certain period of time against manufacturing defects. It is very important to buy a welding machine with a warranty to preserve your right to repair or replace it if there are any manufacturing defects to keep having value for your money.
So, Where I can find my quality budget welding machine ?
To get your welder within a budget lower than $500 with the above-mentioned criteria, there are some brand you can consider like ARCCAPTAIN,Miller,Eastwood,etc.  Remember that always choose a brand with a manufacturing background and rigorous quality testing. These companies have higher requirements for quality control, even if they do not produce their own machines.
Need to mention that Arccaptain welder is a growing welding machine manufacturer founded in 2003 and aimed to supply affordable and quality welding solutions to those who are engaged in the welding industry and nowadays, the company work on its own brand of ARCCAPTAIN.
Welding machines under $500 are not synonymous with poor quality, with the development of digital manufacturing, we can find better welding machines on the market but will not break your bank. Usually these machines are suitable for small welding jobs. There is no doubt that in the field of large electric welding machines, the Lincoln miller is still your best choice.
About the author

Benjamin Mina is from Egypt, He had bachelor degree of science BSc in materials and metallurgical engineering since 2007 from Suez canal university in Egypt and He had an international welding engineer certification IWE since 2009 as a partnership between the central metallurgical research and development institute - Egypt (IIW - Approved Training Body) and SZA-SchweiBtechnische Zentralanstalt - Austria (IIW - Authorized National Body) and recently he got the master degree of science in metallurgical engineering MSc from Cairo university. He have long experience in welding and materials engineering which is gained as per my work as welding engineer and non-destructive testing specialist in the construction field in constructing new oil and gas, refinery and power station projects in addition to shutdowns and maintenance work for running oil plants and pipelines.